Pizza Bianco
A quintessential Italian dish.
Cooking Time: 15-20 minutes Makes: 1 Pizza
Ingredients
Pizza Dough
400gms plain flour
150 gms of semolina
2 teaspoons of salt
380 mls of warm water
2 tablespoons of olive oil
1 tsp sugar
2 teaspoons of dry yeast  [7gm].
Pizza Topping
Shredded mozzarella (hard to grate)
1 jar Always Fresh Eggplant
1 jar Always Fresh Roasted Peppers cut into strips
Buffalo mozzarella balls to tear
4 cloves peeled garlic
1 bunch fresh basil
Dried chilli flakes
Salt + Pepper
2 tbs toasted pinenuts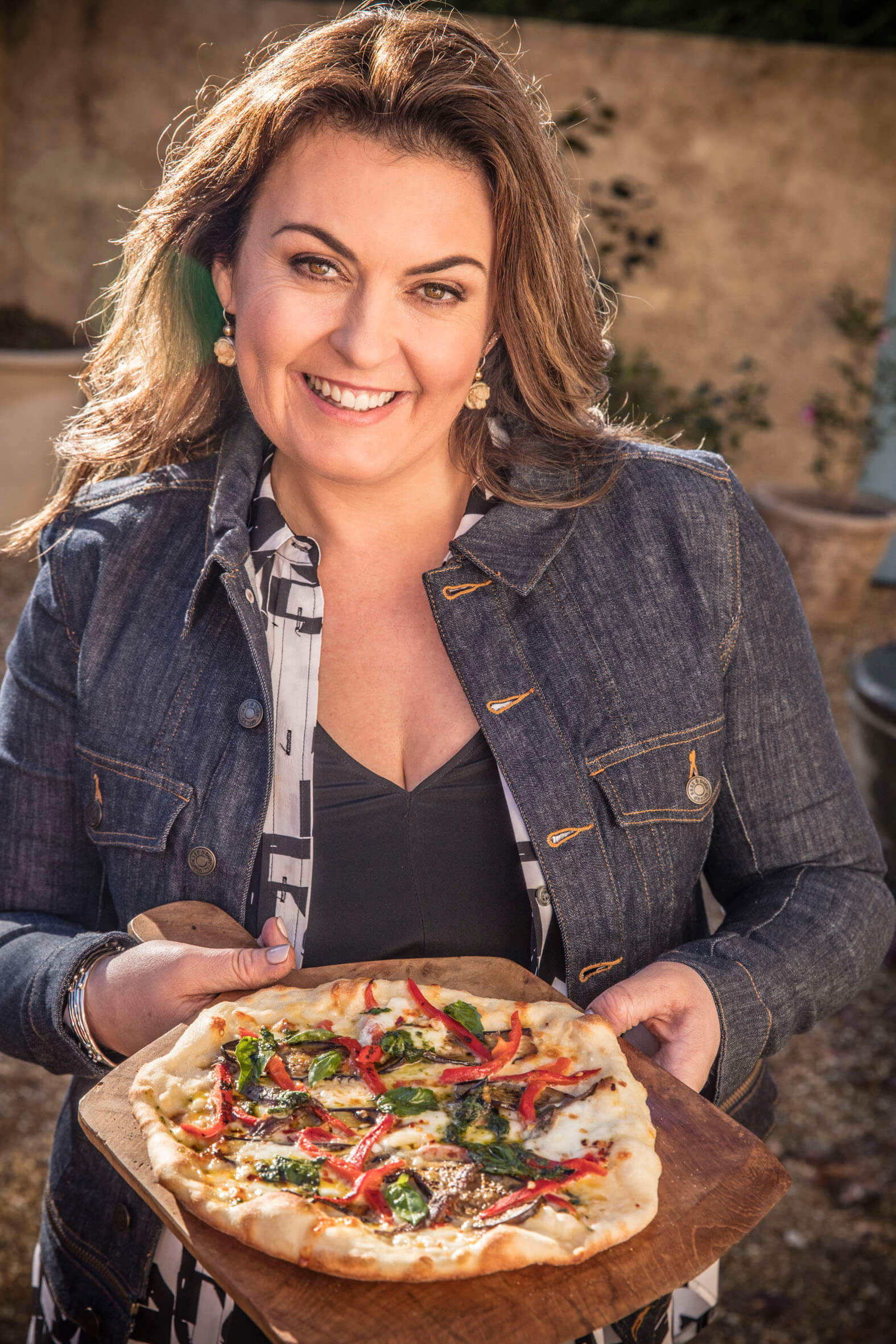 Method
To make the dough
Combine the water, yeast, sugar and oil and whisk briefly to dissolve the yeast. Set aside, it should start to look foamy after about 5 minutes.
Add the flour and semolina and salt to the bowl of a stand mixer with a dough hook attachment.
Add all the liquid at once on low speed and mix until dough comes together, just a couple of minutes. Use a spatula to fold through flour if necessary. Increase speed to high and mix for 5 minutes.  If the dough seems a little wet add a little more flour. Turn the dough out into a large bowl, greased with olive oil. Fashion into a ball, and lightly pat a little oil on top of the dough. Cover the bowl with cling film.  Set aside in a warm place for a couple of hours. It should double in size. You can make this dough the day before but let it rise in the fridge. Take it out of the fridge an hour or so before you are ready to cook.
Heat the pizza oven, maker, box on high heat
Tip onto a lightly floured surface, knock back the dough and divide into 6 portions, dusting with a little extra flour. Roll or knead into long rectangle or rounds.
Working with one dough portion at a time, lightly sprinkle the dough with flour. Roll out in long rectangle or round. Flour the pizza paddle with flour or semolina. Top with shredded mozzarella, eggplant slices, pepper slices and torn mozzarella. Roll, top and cook each pizza as you go. Don't let the bases sit or they will stick and stretch and holes will form
In a Mortar and Pestle, smash garlic, basil ( saving some pretty leaves to garnish), chilli, olive oil and saltand pepper into a rough paste and set aside.
Place pizza in the hot oven. Cook for 5-10 minutes depending on how hot your oven gets.
Remove from oven,  drizzle herb oil and sprinkle pine nuts and basil leaves to garnish. Slice into angled wedges and serve straight away.
Hints & Tips
You can make this dough by hand in a large bowl add the flour and semolina and salt then make a well add all the liquid at once and stir to form a dough and then turn out on a lightly floured bench and knead till sticky and silky smooth.
The dough will be wet and sticky
If preparing dough for the next day, use cold water in the dough. It rises more slowly and is just peaking the next day. It actually develops a better flavor.
You can use a portable pizza oven, wood fired oven or domestic oven but cook times will vary.