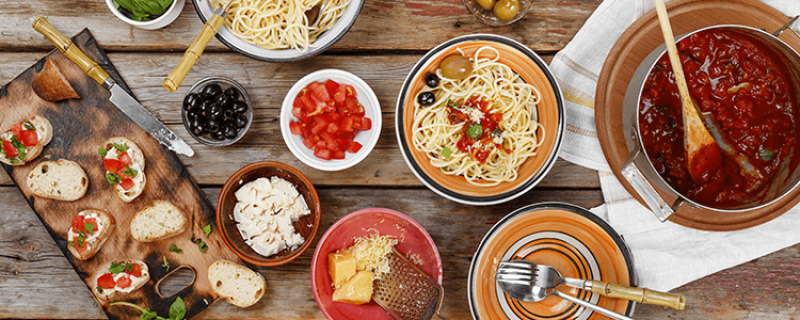 Our thoughts on dinner? Best served with a dash of mediterranean inspiration! Simple, fresh and tasty, the following 5 dishes will have you sorted for the week ahead – get ready for your tastebuds to travel through the Mediterranean!
1. Lamb Wrap

There's nothing quite as tasty or satisfying as a gyros-style wrap, overflowing with tender lamb, fresh vegetables and your favourite dip (we'll let you decide whether that's hommus or tzatziki)! The best part of this dinner is that you can use the leftovers from last night's lamb roast – too easy!
2. Pasta

Pasta – whether it be spaghetti, fettuccini, fusilli, penne or any other tasty variety – is a staple in every pantry, making it the ultimate base for a quick, easy, and flavourful dinner, any night of the week. Get zesty with pesto, hearty with bolognese, or go classic with napoletana.
3. Cous Cous

There's nothing to fault when it comes to light, fluffy cous cous. Not only does it taste great, it takes just minutes to prepare! With a fork (to retain that uncanny fluffiness), stir through roasted and marinated vegetables for the perfect midweek treat.
4. Moussaka

This mediterranean lamb dish is known for its delicious combination of flavours and textures, featuring layers of succulent lamb mince, rich eggplant and fluffy potato. Best served straight from the oven to the table, promising any sign of leftovers would be nothing short of unfair!
5. Grilled Calamari

When planning a quintessentially mediterranean dinner, there's no looking past fresh-off-the-grill calamari. Seasoned with lemon and garlic and seared to perfection, this light, simple dinner adapts itself to both a quiet night in and an evening of alfresco dining with friends.