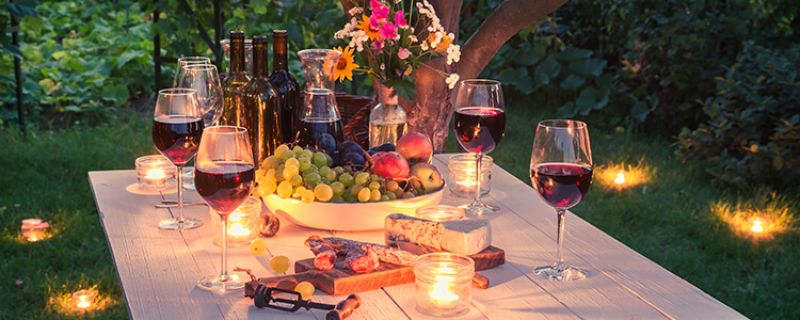 2018 is here! Is it just us or did 2017 disappear in a flash? Anyway, with the new year comes the time old tradition of jotting down some resolutions to stick to in the year ahead. If you're tired of the same old resolutions everyone seems to make, like "eat more vegetables" or "spend less money", we've got some fun resolutions that we're more than happy to share! 
1. Enjoy the good life

With the new year comes the opportunity to re-evaluate whether you're enjoying the good life?! If not, it's definitely time to start! Life should be about making memories and enjoying every moment. For some that may be sitting down to a glass of wine and a delicious meal at the end of the work day and for others that may be getting inventive in the kitchen to treat your family to a feast. Whatever the good life means to you, we think it's about time you make sure you're seizing the day and living it.
2. Take cues from the Mediterranean diet

The Mediterranean diet has been gaining a lot of attention recently and is it any wonder? The Italians, Spanish and Greeks definitely know how to eat! For anyone not familiar with the diet, it emphasises eating fruits and vegetables, whole grains, legumes and nuts, and using herbs and spices instead of salt to achieve flavoursome food. 2018 could be the perfect time to give your diet a Mediterranean overhaul.
3. Travel the Mediterranean coast

We're sure this one is already on your list but just in case you forgot it… The Mediterranean coast holds a magnificent amount of natural beauty, culinary wonders and of course, delicious wine, earning it a well-deserved place on your 2018 must-see list.
4. Learn more about wine

Like us, you've probably got lots of experience with enjoying a delicious glass of vino! We think this year could be the perfect opportunity to up your knowledge on wines to develop your palette and add new satisfaction and enjoyment to what is one of the best pastimes. Ideally, you'd be coupling this resolution with a trip to the Mediterranean coast as listed above, but sometimes a trip down the Italian wine aisle at the bottle store can also suffice!
5. Try making homemade pasta

If you love pasta as much as we do it's probably a weekly staple in your home. We think this year is the perfect chance to try making it from scratch. It may be a little more effort than simply pouring the store bought pack into boiling water, but trust us, the results are worth it, and you will appreciate it oh so much more. A great homemade pasta only needs the simplest of sauces to become a fantastic meal!
6. Entertain friends and family

Make time this year for quality time with family and friends. The best way to come together is around a table full of delicious food! We know it can be difficult to find a time that suits everyone but the organisation is definitely worth it when you share special memories with the ones you love.
7. Take a cooking class

You're never too old or experienced to learn something new! 2018 is a great year to take your skills in the kitchen to all new levels with a cooking class. Even the best cooks can benefit from the knowledge of others in the kitchen. We suggest choosing a cuisine you love to eat but are not quite sure how to cook yet. The best part is indulging in your creations at the end of the class.
What are your resolutions for 2018? We'd love to hear them! Head to our Facebook to join in the discussion.