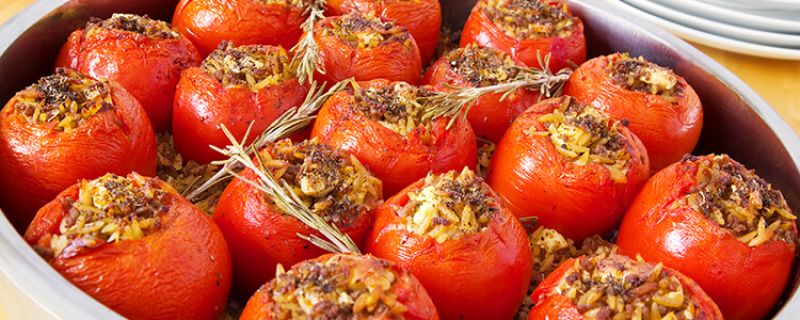 This spring we're feeling inspired by the rich food culture and delicious cuisine of Greece. We've compiled a list of some of our favourite regional Greek specialties to give you some ideas on how you can bring these rich flavours to your kitchen. We should probably warn you though, the following list is also going to induce some serious desires to hop on a plane right now to get your fix of these epic dishes!
1. Taramasalata

This famous local specialty blends fish into a delicious dip! Add some freshly baked crusty bread and your meal is off to a flying start!
2. Feta Me Meli

Feta and filo – we'd find it immensely challenging to think of a better combination! Finished with a drizzle of honey this heavenly dish strikes the perfect harmony of sweet and salty!
3. Dolmades

When you combine grape leaves and a flavour packed rice stuffing, the result is unbelievably delectable! This classic Greek mezze is at home on any appetiser platter. The best part – we make them, so you don't have to!
4. Fava

This creamy split pea puree comes from the breathtaking island of Santorini, so we're not surprised it's also popular all over the world! It's packed full of flavour and is an absolute must-try.
5. Kolokithokeftedes

If it has feta cheese in it, sign us up! These tasty zucchini balls hailing from the stunning island of Crete are the perfect combination of creamy on the inside and crispy on the outside! These little morsels of yum have a habit of disappearing!
6. Baklava

We couldn't possibly forget dessert! Our mouth starts to water just thinking about biting into sweet and flaky baklava! The best part is you can make it your own by customising the recipe with your favourite nuts and just the right amount of honey to suit your preference. Mmm!
7. Pastitsio

This yummy baked pasta casserole is a guaranteed family favourite. With a hearty tomato based sauce, tender penne and creamy béchamel, it'll please even the fussiest eaters! Bake up a big dish and enjoy it all week for lunch at work!
8. Prawn Saganaki

Prawns make the perfect spring meal base so it only makes sense that this flavour-packed dish is one of our seasonal favourites. You may be familiar with Saganaki cheese but don't be confused, the word "Saganaki" just means prepared in a small frying pan. This dish is deliciously made from prawns, tomatoes and feta. Yum!
9. Domates Yemistes

These juicy tomatoes are the stuff of legend! Filled with a tasty mix of rice and ground meat, and baked in the oven, they're a surprisingly easy meal that'll definitely impress those lucky enough to test your creation!
Do you have a favourite Greek dish you've whipped up lately? We'd love to hear about it. Head to our Facebook page to join in the conversation.