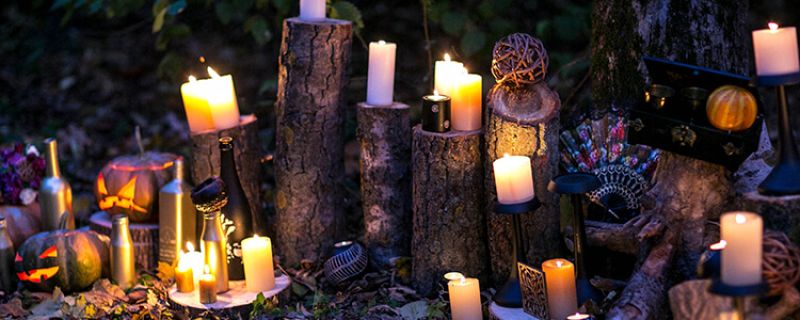 Costumes, chocolate and chills. Halloween is a great opportunity to throw a themed party. We've compiled a list of our top hints to take your supernatural soiree to the next level with an elegant and (slightly) more mature take on the creepy classics.
1. Create a spine-chilling Halloween cocktail

Nothing better than a themed cocktail to breathe a bit of excitement into your party. Think freezing plastic spiders into your ice cubes or serving up a delicious bespoke concoction in a vile. Pick your poison – your guests are sure to enjoy it!
2. Serve up more than sweets

We definitely like to eat our favourite antipasto like candy so it only makes sense they have a place on the table for Halloween. Get creative with crustini and bite-sized morsels of deliciousness. Decorate your platter with ominous insects amongst the olives to up the scare factor just the right amount!
3. Add a touch of antique

Turn your party venue into a haunted mansion with a touch of antique decor. Use intricate intertwining metals, hiding a rich history beneath a veil of rust. Not only does it feel a little spooky, it also looks super elegant!
4. Set a spooky atmosphere

Set the scene for your party with an array of spooky candles. It looks gorgeous and who knows what exciting things will happen in the near dark!
5. Pack the treats to take home

Of course, when planning a Halloween party you can't possibly forget the treats. We like to give our guests a little something sweet to take home so they'll be enjoying the spoils of the get together for days after. If you've got a few sweet tooths on the guest list, a candy buffet could really shock them (in a good way).
6. Think Halloween glam

Beware of tacky decorations this Halloween and instead look at ways to show off the scary side of your personal decorating flair. Add pops of orange and a few spooky decorations here and there to get your friends snapping those perfect Instagram snaps.
7. Pimp your pumpkins

Pumpkins are of course essential to your Halloween party decor, but did you know they actually make great centrepieces. Grab some flowers out of the garden and use a hollowed out pumpkin like a vase for the perfect festive bouquet.
Got big plans for a big Halloween party this year? We'd love to hear about it. Head to our Facebook to tell us more.