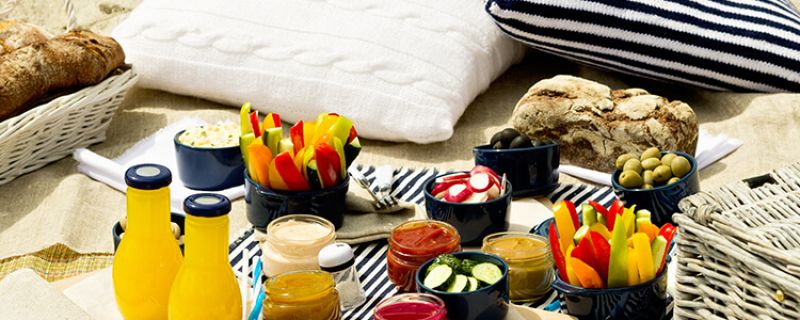 Spring is here and that means it's time to find the picnic rug in the closet and get ready to feast in your favourite park! If we do say so ourselves we've thrown a few lavish picnics in our time so we've compiled five of our top tips to help you perfect your picnic style.
1. Go all out

When it comes to creating the perfect picnic the sky is the limit! Don't be afraid to show off your creativity and create an elaborate setting not just in terms of the culinary display on offer but also the decorations. A great picnic will be remembered for years to come!
2. Invest in a basket

We definitely think a great picnic basket is worth investing in. Not only is it something you can use for years to come but it'll also inspire you to get out there on the grass each spring! During the colder months, it can also double as a magazine holder, decor piece or a little bit of extra storage.
3. Platters are key

Picnic food should always be perfect for grazing and easy to transport. With your favourite platter in your basket along with a few packs of our new olive pouches, a jar of bruschetta, a box of your favourite Always Fresh biscuits and some cold cuts or cheese, you've got yourself a winning platter sure to make any picnic a delicious success!
4. Make it a bit cushy

Comfort is key to a picnic lasting and the ground is not always the easiest place to sit so we recommend packing some cushions. They can be a seat while you eat and then a pillow for relaxing (or even the ensuing food coma), so you can while the spring day away in cozy picnic style.
5. Have some fun and games

Have a bit of fun with your picnic by bringing along your favourite outdoor games. Not only is it a great way to work up an appetite, it's super fun and sure to bring all of your guests together. Some of our favourites include bocce, croquet and badminton!
What's your secret to the perfect picnic?! We'd love to hear what goes into your basket and what is served up on your rug. Head to our Facebook to let us know.