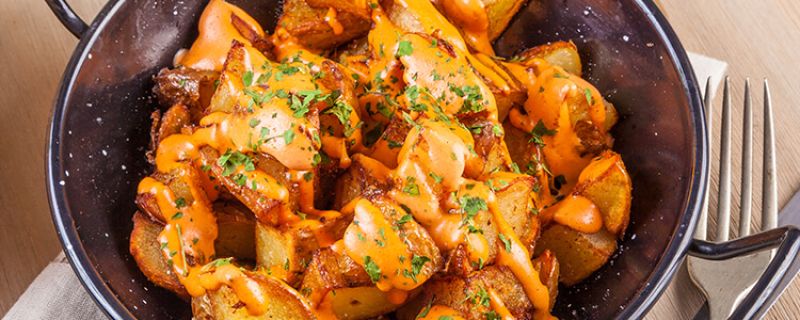 With the new life in spring comes time to overhaul your menu! The comfort foods of winter were great while they lasted, but it's time to lighten up your meal plan and get ready to eat outdoors as the nights get longer! There's no better place to look for inspiration than the the Mediterranean, so we've compiled some of our favourite Spanish dishes that deserve a place on your table this spring, whether you're entertaining friends, feeding the whole family or enjoying a little touch of luxury alone.
1. Pintxos

When you start with fresh and crispy bread what could possibly go wrong! Gather your favourite antipasto, sliced meats, cheese, seafood, veggies and whatever else takes your fancy, and get creating. Hold it all together with a toothpick and you're done. These bite-sized pieces of perfection are perfect for consumption with friends and a well-deserved glass of wine.
2. Paella

You're probably aware, but paella is one of the all-time greatest Spanish dishes and it's absolutely perfect for spring! We highly recommend perfecting your own famous paella recipe, full of your favourite ingredients, including chicken, seafood, vegetables or chorizo. Getting the rice and the flavours right is an art form but one well worth learning!
3. Croquetas

Crunchy on the outside, soft and bursting with flavour on the inside, croquetas are the perfect Spanish snack! Our favourite variations include jamon iberico, mushrooms and cheese. The secret is perfecting your creamy béchamel sauce base. We're definitely getting hungry just thinking about it!
4. Calamari

If you've got a very large soft spot for fried food like we do, this one is for you. What could be more delicious than fresh squid, lightly dusted with batter and fried to a crispy perfection? We may not be able to get to Spain right now, but at least we can enjoy some seriously delicious meal inspiration!
5. Patatas Bravas

Add a bite of Spanish flavour on the side of your meal this spring with some spicy patatas bravas. Fried pieces of potato covered with aioli and a spicy tomato sauce, what a perfect combination. Make sure there is plenty to go around because they have a habit of disappearing pretty quickly!
6. Gazpacho

Your love of soup need not remain exclusively in winter, thanks to fresh and light Spanish Gazpacho. Show off your Spanish culinary expertise by dishing up a Gazpacho to start your next dinner party!
7. Bocadillos

Add some Spanish flavour to your sandwich repertoire this spring by creating some goodie packed bocadillos. There's no need to overcomplicate things. Start with a fresh baguette and fill with simple combinations of high-quality cold cuts, cheeses and fresh produce.
8. Empanadas

As a general rule encapsulate any ingredients in pastry and the results will probably be delicious. The Spanish empanada is no exception and we can't think of a better time to try this famous treat than in the springtime.
9. Crema Catalana

Of course, we couldn't forget the dessert! Though we definitely wouldn't say no to a Crema Catalana at any point in the year, this Spanish dessert dish is a spring favourite of ours. The rich creamy custard is perfectly topped with crisp burnt sugar – yum!
Have you tried any of these classic Spanish dishes? We'd love to hear what you'll be serving up this spring. Head to our Facebook to join the conversation.