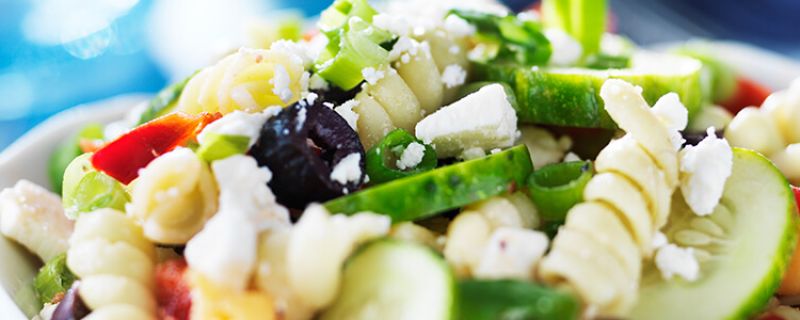 We're super thrilled about the launch of our new Olive Pouch Packs range. In convenient, mess-free portions, they're totally changing up the olive game. We recommend keeping a few packs on hand in the pantry! There are so many ways to use them so we thought we'd spark your creativity by listing a few to get you started!
1. Bruschetta

Jazz up your bruschetta recipe with our Mixed Olive Halves Pouch Pack. The combination of tomatoes, crunchy bread zesty onions and salty olives is simply scrumptious. Warning: you may never be able to have bruschetta again without them!
2. Tart

Get your bake on and try creating a tart with our Kalamata Halves Pouch Packs. What could be better than flaky pastry and authentic Mediterranean olives? The answer, obviously, is nothing!
3. Baked Chicken

Get the family excited for dinner by adding our Mixed Olive Medley to your baked chicken dish! They add a delicious flavour hit and an instant touch of authentic Greek cooking.
4. Pasta Salad

Pasta and olives is a legendary combination so it only makes sense that it works perfectly as a salad also! Grab a pouch of our Mixed Medley Salad Olives and you've got the makings of the ultimate pasta salad on your hands!
5. Pizza
If you've been to Italy, you'll probably know that sometimes the simpler the pizza, the better! With a pouch of our Kalamata Pizza Olives all you need is some fresh basil and a smear of tomato paste for an epic pizza.
6. Souvlaki

Souvlaki makes the perfect hearty winter meal. Add some of our Kalamata Olives, peppers, fresh tomato and salty feta and you've got a new favourite dish on your hands!
7. Spaghetti

Tear open a pouch of our Mixed Olive Halves and whip up a delicious spaghetti in seconds! We love to add whatever we've got handy in the fridge and pantry to create a unique and delicious flavour combination that's sure to warm us up!
Have you tried our new Olive Pouch packs range? We'd love to hear what you've been creating in your kitchen. Head to our Facebook to let us know.