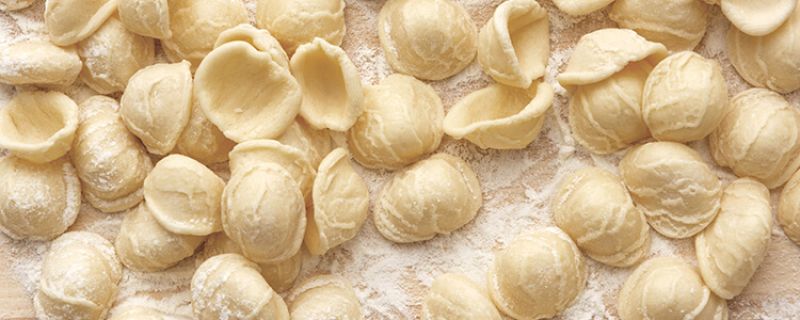 We wouldn't be surprised if pasta was a regular on the menu of your home, especially with some of our delicious new Pasta Olive pouches mixed in. With so many varieties on the market it can be difficult to choose which pasta shape to go for. We've created a list of our favourite traditional Italian pastas to assist you in choosing your ideal shape and of course, inspire you in the kitchen!
1. Fusilli

Chances are if you love pasta, you've probably had many bowls of fusilli in your time. These spiral-shaped morsels of pasta are great with just about any sauce.
2. Farfalle

Also known as bow-tie pasta, this family favourite is ideal with tomato and cream based sauces. It also makes a great pasta salad!
3. Pappardelle

Originating from Tuscany, pappardelle is a broad, flat pasta. Because of the simple shape this is a perfect pasta to try making from scratch. Pair it with a simple but flavourful sauce and you'll be onto a winning meal! 
4. Orecchiette

Often served with vegetable sauces or ragu, this small pasta originally from the south of Italy distributes well to make a delicious pasta dish! We love how the name orecchiette originates from the Italian word orecchia, which means ear!
5. Rigatoni

This tube-shaped pasta variety has to be one of our favourites! The ridges on the pasta are designed to better hold your sauce of choice. We particularly love a creamy rigatoni, when the sauce is hiding inside each delicious piece, ready to explode with flavour!
6. Ravioli

There's nothing like a homemade ravioli! This dumpling style pasta encases a range of tasty fillings that are perfectly paired with a relatively simple sauce. Cheese has to be one of our favourite fillings!
7. Trofie

From Northern Italy, trofie is a thin twisted pasta variant usually made with durum wheat flour and most regularly served with all different kinds of pesto sauce. We're getting hungry just thinking about it!
8. Gigli

These florette shaped pasta flutes, also known as campanile, pair perfectly with thicker sauces as well as casseroles. We think they're the perfect pasta to add to your winter cooking repertoire!
9. Bucatini

Similar to spaghetti, but with a hole running through the centre, bucatini makes a phenomenal dish when paired with buttery sauces, preserved meats like pancetta, or salty anchovies!
Which pasta do you use most regularly? We'd love to hear your secret recipe. Head to our Facebook page to join the discussion.