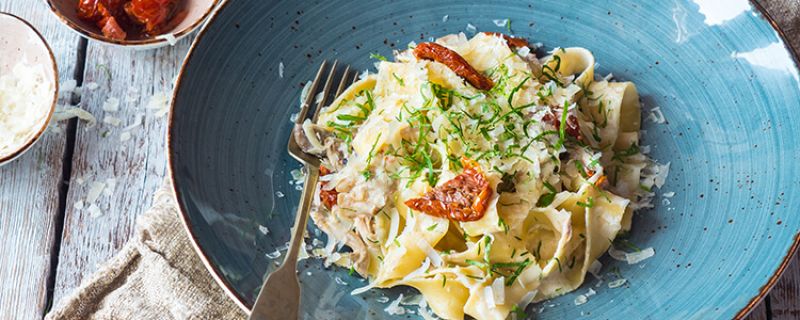 We can't think of a better way to enjoy winter than curled up inside with a big tasty bowl of pasta. One of the best things about pasta is that it's like a blank canvas waiting for you to express your culinary flair and create a unique flavour combination! We've compiled our list of the 15 greatest ingredients you could possibly stir through freshly cooked al dente pasta to get your pasta dish started and continue your quest for the perfect bowl of pasta.
1.  Parmesan Cheese

We've always got some Parmesan on hand in case we need to whip up a quick bowl of pasta. It's worth investing in a delicious Parmesan, as a freshly grated sprinkle on top can totally transform your meal! 
2. Olive Oil 

Whether you're making a quick and simple pasta with olive oil and fresh herbs or finishing off an elaborate recipe with a drizzle, olive oil is an essential when it comes to creating a delicious pasta dish!
3. Pesto

Pesto and pasta are always a winning combination! It also happens to be super easy to make. You can use pesto on its own or as your sauce base – either way, it's sure to be delicious.
4. Kalamata Olives

We love how much flavour Kalamata olives can add to a bowl of pasta, so they definitely earn staple status in our book for a quick and tasty pasta!
5. Artichoke Hearts

Artichokes add an authentic taste of the Mediterranean to your pasta. Pair with fresh herbs, olive oil and a generous amount of Parmesan for a simple and delicious meal.
6. Sundried Tomatoes

You're probably aware how much we love sundried tomatoes so it's probably no surprise that they've made the list! Tangy and delicious, they add not only great taste but also a burst of colour.
7. Roasted Peppers

The great taste of roasted peppers are right at home amongst a steaming bowl of tender pasta. They're especially good when teamed with hard cheese and cured meat – yum!
8. Capers 

Capers may be small but they sure pack a lot of flavour! They'll take even the most simple pasta to the next level.
9. Pomodoro Sauce

We couldn't make a list of our favourite pasta ingredients and leave off an authentic pomodoro tomato sauce. When you get the sauce right, you don't need anything else at all!
10. Prosciutto 

Whether you're making a traditional carbonara or whipping up something more unique, prosciutto and pasta are a match made in heaven!
11. Prawns 

Seafood pasta is a great way to capture the local tastes of the Mediterranean, so we're a big fan of adding fresh prawns to perfectly cooked pasta for a mouth-watering combination!
12. Spinach

Pasta is a great way to convince even the fussiest diners to eat their greens. We love adding some baby spinach for a great taste that's also full of goodness!
13. Mushrooms

With so many varieties to choose from, mushrooms make a great pasta ingredient. Cook them in a pan with some butter and then simply add pasta for an easy but tasty dinner!
14. Garlic

Garlic is the secret hero of so many great pasta recipes but sometimes we also like to make it the star!
15. Pumpkin

We love the sweetness that pumpkin can add to a pasta recipe. Pair with some pine nuts, Parmesan and fresh herbs and you have a winning combination on your hands!
What're your ultimate pasta ingredients? We'd love to hear! Join in the conversation on our Facebook page.