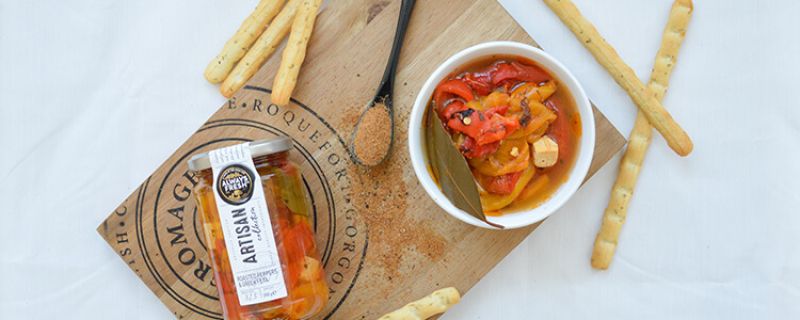 If you've ever tried our Artisan Collection you're probably familiar with the fine quality and authentic taste you experience every time you open the jar. With a few jars on hand, throwing an epic party is easy, and here's why:
1. It creates a colourful table

From Feta Stuffed Peppers to Green Olives with Lemon & Chilli, the Artisan range is not only bursting with delicious flavour but also looks as good as it tastes! With a few jars on hand you've got a colourful spread to delight your guests aesthetically while you also delight their taste buds.
2. It gives your party an instant dose of fancy


A party provides a great opportunity to impress your nearest and dearest, and it's so simple with our Artisan collection on the table! Nothing shows off your entertaining flair and gets the party started like authentic antipasto!
3. Stress less about food and worry more about having fun

Ensure your party goes off without a hitch so you can relax and join in the fun by putting in the preparation beforehand. By that we mean adding your favourite Artisan varieties to your shopping list, popping the lid off and setting the table. Voila – time for a vino!
4. It keeps everyone entertained until the main meal

Ward off any feelings of 'hanger' from the moment your guests walk through the door with an arsenal of our Artisan range on the table and ready to hit the spot. The only issue is that each variety is so delicious your guests may not have any room left by the time your main meal is ready!
5. It brings the Mediterranean to your home

Hand filled in Thessaloniki in Northern Greece, our Artisan range brings the finest quality authentic tastes of the Mediterranean to your party. Whether you're opening a jar of Jalapeño Stuffed Green Olives or Mixed Olives & Greek Feta, you'll be taking your guests on a culinary tour of this beautiful region.
6. Everyone will be very impressed with the food

You need not be a wiz in the kitchen to serve your guests delicious food when you've got our Artisan range on hand. Add some of our crunchy Grissini for a taste of gourmet without all the effort!
7. It's the start of every great platter

Every great party needs a great platter! Start with our a couple of jars of our Artisan range, add charcuterie and cheese and finish with biscuits. It's as easy as that! The best part about a platter is it has something for everyone!
What's your favourite variety of our Artisan Collection? Join the conversation on Facebook to weigh in and let us know how you like to use this delicious range.