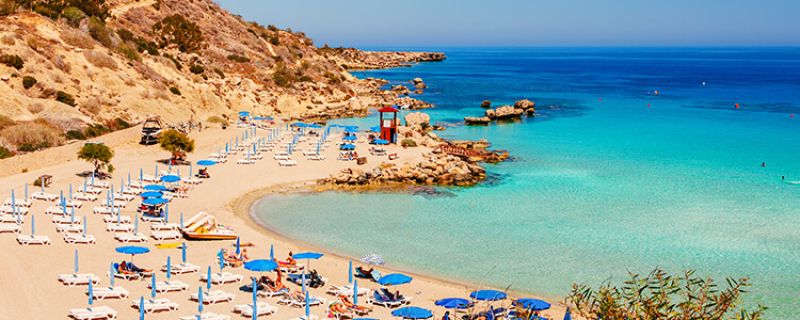 With winter on the way, now is the perfect time to start dreaming of a summer spent in the Northern Hemisphere. We've compiled a list of some of our favourite Mediterranean destinations to get your imagination taking off on an epic adventure.
1. Paxos – Greece

When it comes to selecting a Greek Island destination, it's hard to go wrong! Paxos has charm in spades with delicious local cuisine and beautiful beaches which are less frequented than some of those on the larger islands.
2. Palermo – Italy

This history-rich Sicilian city will keep you busy all day while you take in the culture, and dazzle you with sparkling beaches when you're ready to kick back for some local cuisine and a vino!
3. Rovinj – Croatia

This gem of a fishing village is one of Croatia's most popular attractions for a reason! With a picturesque old town that will invoke feelings of romance in even the most cynical, it's no wonder visitors return year after year.
4. Nice – France

You can't really beat the South of France! Crystal clear pebbly beaches meet the culturally rich town of Nice to create a destination to remember.
5. Majorca – Spain

If you're into sparkling turquoise waters and relaxing on the warm summer sand, Majorca is the perfect place for you! Couple this with tasty Balearic cuisine and you've got a vacation made in heaven. 
6. Ayia Napa – Cyprus

Located on the southeast coast of Cyprus, this destination is not only well-known for its spectacular coastline, but also the scrumptious freshly caught seafood served at its local tavernas.
7. Ibiza – Spain

If dancing all night and relaxing on the beaches of one of Spain's most beautiful islands all day sounds like your jam, there's no better place to do so than Ibiza. Long famed for the nightlife, it's also a stunning destination that delivers everything you could possibly want from a Mediterranean getaway!
8. Budva – Montenegro

This gorgeous town in the Mediterranean is packed with history, culture and plenty of activities to fill a holiday itinerary!
9. Capri – Italy

Want to vacation in style? We can't think of a better place to play than the Island of Capri! This dramatic coastline is a wonder to behold, surrounded by luxury hotels, designer boutiques and the famous Blue Grotto.
10. Crete – Greece

Like so many of the islands in Greece, Crete has some awe-inspiring beaches to frequent, but none stand out more to us than the pink sands of Elafonisi. Add this to tasty local cuisine and the friendly locals and you've got yourself a dream holiday!
11. Comino Island – Malta

This small Maltese Island is home to the famous Blue Lagoon. Best enjoyed from the comfort of a luxury yacht, the dazzling blue colour of the water is something truly special to witness.
12. Algarve – Portugal

Soaring cliffs and sandy coves make Portugal's southern Algarve region a must-see destination. With lots of activities like kayaking and hiking, there is plenty to do during the day and the coastal towns are the perfect place to relax and unwind at night!
13. Kefalonia – Greece

The limestone cliffs and rugged landscapes of Kefalonia provide a fitting backdrop to a lush Mediterranean adventure. Stay in one of the colourful villages and use this as a jumping point for exploring the exquisite stretches of sand and an array of medieval castles.
14. Sardinia – Italy

Far from the Italian mainland, this quiet Mediterranean destination has plenty to offer! It boasts lavish hotels and of course, world class beaches to while away the day sipping vino on a sun lounge.
15. Canary Islands – Spain

Nestled off the northeast coast of Africa, this Spanish Archipelago boasts warm weather year round! With 500 beaches across the 7 islands there is no shortage of things to do and places to see. The only problem is deciding where to start!
Which Mediterranean destination are you dreaming of escaping to this winter? We'd love to hear. Simply join the discussion on Facebook.