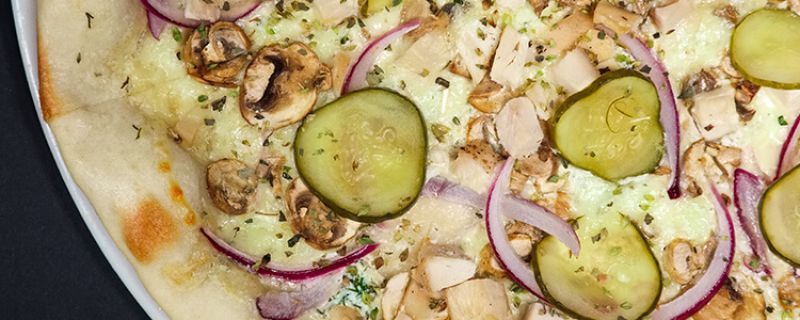 Just in case you are ever in a pickle trying to figure out how to incorporate those delicious tangy pickled cucumbers into your next meal, we've compiled 7 of our favourite ways to use them in the kitchen. Whether you're a fan of our Sweet Gherkins, or our Bread & Butter, Sweet and Sour, Dill or Polskie Ogorki Cucumbers, there is something here for everyone!
1. Take your hot dogs to fancy new levels

Hot dogs may seem like a basic meal, but when you add some tasty and gourmet toppings they turn into something special that the whole family will love. We like to think of the hot dog as our blank canvas and the pickles as our creative medium!
2. Freshen up a classic BLT

Love a BLT? We couldn't agree more, but we think it should be BLTP! Pickles make a tangy and delicious addition to this classic sandwich combination that will leave you wishing you had made two instead of one!
3. Bathe your bagels

There's nothing better than waking up to a bagel covered in pickled goodness. This works best with salmon, fresh dill and of course cream cheese – yum!
4. Pair with tuna for the ultimate open sandwich
For a quick and tasty meal we recommend toasting up some fresh bread and covering it with tuna, onions, olives and pickles! This could quickly become a lunch time favourite – it is definitely one of ours!
5. Create a show stopping Bloody Mary

Every cocktail lover knows that creating the ultimate Bloody Mary is something of an art form. We recommend really adding some character to your next batch with some pickle juice in the mix and pickle garnish to top it off nicely!
6. Perfect a pizza

Create a scrumptious and unique pizza experience at home by adding pickles into the mix. They go particularly well with shredded chicken, purple onion and mushrooms.
7. Dress up a salad

Say goodbye to boring salads – creating your own dressing using pickles is a total game-changer! We like to combine mayonnaise, finely diced onion, chilli sauce and minced garlic to create a dressing that'll give every salad the wow-factor.
Are you a pro pickle user in the kitchen? We'd love to hear your favourite recipes featuring pickled cucumbers. Head to Facebook to join the conversation.