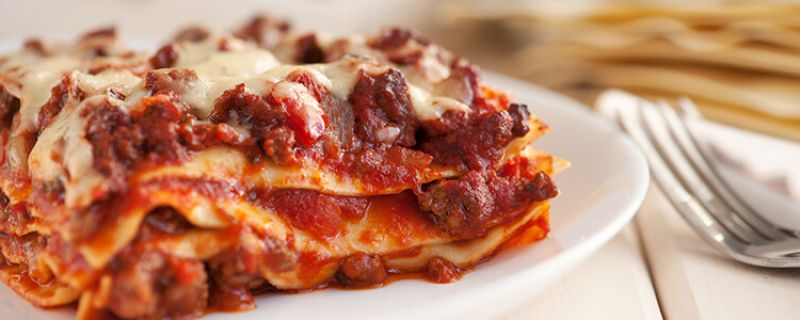 You've probably guessed by this point that we are pretty big fans of Italian foods! While there are so many amazing recipes throughout the regions of this culinarily diverse country, there are a special bunch of classic Italian dishes that we love so much we'd be happy to eat them every single day!
1. Cacio e Pepe

This pasta dish is so tasty that you'd never know it's only got 3 ingredients! All you need is some good quality grated Pecorino Romano, cracked black pepper and the pasta of your choice. The secret is getting the consistency right by mixing the cheese with water to create a paste before adding it to the cooked pasta – yum!
2. Capricciosa Pizza

When thinking of the best classic Italian pizza recipes there are many that come to mind but we have a special spot reserved just for the Capricciosa! Available in every pizzeria in Italy and also easy to recreate at home, it is made with a tomato base topped with ham, artichoke, olives and mushrooms. What a combination!
3. Bolognese Ragu
In Italian cuisine ragu means a meat-based sauce. Of course there are many different varieties, but none we love more than a classic spaghetti bolognese ragu. Like us, it is probably a weekly staple in your home. Easy to make and tastes fantastic – what's not to love about that!?
4. Involtini

Walking into any osteria or trattoria in Italy you are likely to find an involtini on the pages of the menu. This famed dish is usually made of thin slices of meat or vegetables rolled with a delicious filling of parmesan cheese and other delicious ingredients like sausage, mushrooms or breadcrumbs. We think the more rolled up inside the better!
5. Spaghetti Carbonara

We're fairly sure you'd be familiar with this one! There is a reason this creamy and salty pasta dish is so famous all over the world. You may be surprised, however, to learn that when cooked traditionally, the recipe does not actually contain cream. It gets that tasty creamy consistency from eggs. If we could only have one dish for the rest of our lives, this one would be pretty high up there!
6. Mushroom Risotto

A well-cooked risotto is a fine art that we can definitely learn from the Italians. We're particularly fond of a classic mushroom risotto with perfectly tender rice and a sprinkle of parmesan. The only concern is making sure there is enough for seconds, and thirds!
7. Veal Ossobuco

This hearty stew with veal shin and marrowbone is definitely one of our favourite comfort foods. Cooked to tender perfection amongst vegetables, white wine and broth, it's the perfect way to warm your heart on even the chilliest of nights!
8. Minestrone Soup

Every meal has to start somewhere and we can't think of a better way than with a traditional minestrone soup. It tastes great and is even better for you, full of nutrient rich ingredients like tomatoes, onions, beans, celery and carrots!
9. Lasagna

We don't know any other dish that has quite the status of family favourite as this magical concoction of layers of soft pasta filled with bolognese sauce, béchamel and cheese. We think this is one recipe that everyone should master in their life, because nothing says "I care for you" quite like a homemade lasagna shared among family and friends!
10. Arancini

Soft and tasty risotto rolled into balls and fried, filled with varieties of meat, cheeses and vegetables. Sound like heaven? It pretty much is! We recommend these for a party but it's vital you make sure you have enough as they are always a favourite!
11. Panini

No one does a sandwich like the Italians! Start with a fresh and crispy panini, fill with your favourite cold cut meats like salami, prosciutto or porschetta, add fresh cheese like provolone and mozzarella and finish with the sauce, salad or pesto of your choice. We're getting hungry just thinking about it!
Do you have a favourite classic Italian dish that you're always making at home? We'd love to hear about it. Join in the conversation on Facebook.