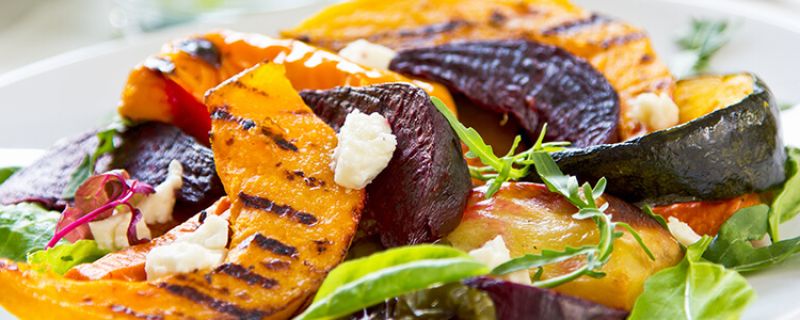 Summer is all about enjoying great food without the drama, so we've put together some some super simple meal ideas that will allow you to spend less time in the kitchen and more time outside having fun! Whether you're cooking for one or the entire family, check out the list below to get kick your summer culinary creativity into full swing.
1. Grilled Halloumi Kebabs

Fire up the BBQ, this one is super tasty and ready in minutes. Simply thread cubes of halloumi onto wooden skewers along with your favourite fresh vegetables, give it a turn on the grill and you're done!
2. Olive and Rocket Pizza

Pizza is, of course, the perfect dish no matter what time of year it is. In summer, we like to lighten things up a little bit with olive oil on the base, olives, feta and a bit of greenery to really 'rocket'!
3. Chicken Lasagna

If you're like us, you love lasagna so much you don't want to say goodbye to this hearty dish in the warmer months. Good news – we've got the perfect solution! Switch out the Bolognese sauce for chicken and your favourite greens. It's sure to become a summer favourite.
4. Roast Vegetable Salad

This one is great to prepare ahead of time. Simply roast an array of vegetables in the oven and cool. When you're ready to eat all you need to do is to combine the veggies with some fresh herbs, feta cheese and a light vinaigrette dressing – yum!
5. Stuffed Avocados

We're always looking for new ways to enjoy avocados, especially when they're in season! All this recipe requires is blue cheese, cream cheese and some crunchy walnuts.
6. Spinach and Feta Pastries

Take a bit of inspiration from Greece with these delicious parcels of spinach and feta. Mix together cooked spinach, feta and sesame seeds and spoon onto segments of puff pastry. Fold and pop them into the oven and you're finished! They are moreish, be sure to make enough!
7. Grilled Lamb Pockets

This one is a great idea to keep in your back pocket if you need to make something delicious in a hurry. All you need is minced lamb, cucumbers, lettuce, olives and pita pockets. We recommend barbecuing the lamb for the tastiest results.
8. Garlic Prawn Fettuccine

There is something so delicious about a simple pasta of prawns, butter, garlic and herbs. It's also super easy to make so all you have to worry about is how you want to enjoy it!
9. Herb-Crusted Chicken

For a scrumptious and healthy summer meal that's perfect for the whole family, try crumbing your chicken with a mix of breadcrumbs and your favourite herbs before baking until golden. Serve with lemon and a green salad for a memorable meal to enjoy as the sun goes down.
What's your fail-safe easy summer recipe? We'd love to hear what you like to cook at home. Head to Facebook to join the conversation.