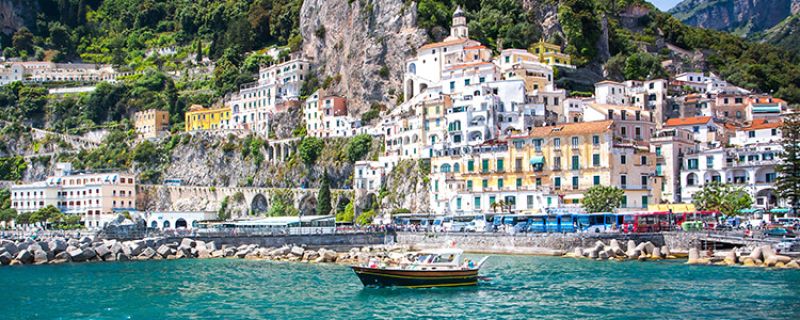 Dreaming of an adventure this year? Fancy that, so are we! Here's a look at the destinations we're adding to our travel bucket lists for this year. Beaches, lakes, wildlife, delicious food and history – we want to see it all!
1. Dubrovnik, Croatia

With stunning views, abundant history and clear turquoise waters, there are so many reasons we want to visit Dubrovnik! At the end of a long day of exploring, we hear there are also some exceptional restaurants where we could enjoy the local Mediterranean cuisine and a generous glass of vino!
2. Provence, France

Provence is well known for its beautiful lavender fields, but there are so many reasons to visit this gorgeous slice of the world, a big one being the inviting seas of the Cote d'Azur. If you're a fan of rose (like us), this destination is an absolute dream with a bevy of locally produced drops to choose from.
3. Positano, Italy

There is certainly a reason that tourists flock to Positano yearly to soak up some of the Italian summer. With great weather and unbelievable views, the Amalfi coast is a traveller's dream. Don't forget to pack your bathers though – you won't be able to say no to the inviting beaches.
4. Valencia, Spain

We can't think of a more dreamy place to enjoy a paella than Valencia. The gorgeous old-town full of historic sights lies on the shore's edge, making it a great getaway with all the sun and culture you could dream of.
5. Corfu, Greece

We're dreaming of winding down on white sand under clear blue skies and we can't think of a more suitable place to do it than Corfu. With breathtaking indigo waters and mouthwatering local seafood dishes, we just can't stop picturing ourselves kicking back here for a week or two!
6. Chefchaouen, Morocco

The colours of Chefchaouen are calling us! Located in the north-west of Morocco, this unique city packs every hue of blue one could possibly imagine! We'd love to be getting lost in the winding streets, amongst the tagines and the colourful pots.
7. Lagos, Portugal
Many refer to the cliffside beaches of Lagos as the most beautiful in the world, but we think we need to see for ourselves! We're thinking a kayak is the perfect way to explore this treasure.
8. Larnaca, Cyprus

We'd like to get wander-fully lost in Cyprus amidst the magnificent beaches and 10,000 years of rich history. Checking out the flamingo population at Larnaca Salt Lake sounds like a pretty unforgettable experience too!
9. Lake Bled, Slovenia

Where stunning mountains meet beautiful lakes – Lake Bled is a destination we can't wait to visit. With colourful, traditional boats and incredible views in every direction, this is one pretty postcard we'd like to get lost in!
10. Kotor, Montenegro

Montenegro may be small but it is definitely packed full of dream-worthy locations to visit. The top of our list has to be Kotor, where old town charm meets the sea.
11. Lake Como, Italy

If it's good enough for George Clooney, it's good enough for us! We just can't seem to stop picturing ourselves with an Aperol Spritz in hand by the edge of the crystal clear waters… sigh.
Which destinations are you dreaming of visiting? We'd love to hear about your travel plans (both real and imagined)! Join the conversation on Facebook to tell us more.