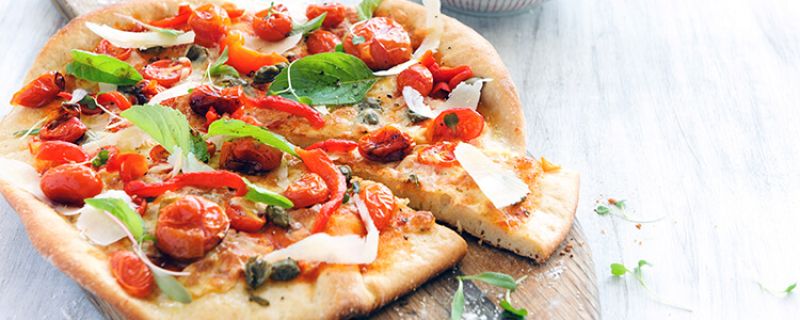 There are so many things you can do with a jar of roasted peppers, and summer is the perfect time to incorporate that zesty flavour into your menu plan. Whether you're entertaining friends or cooking for the family, we've put together some easy recipe ideas to get your creativity flowing the next time you pop the lid off.
1. Blend into a tapenade

A food processor + a jar of roasted pepper strips = a whole lot of delicious possibilities! You can then add your delicious creation to pastas, burgers and sandwiches, or dip in with your favourite biscuits!
2. Pimp your pizza

Instantly lift the flavour of your homemade pizza with a generous smattering of roasted peppers! Combine with a shave of parmesan, a handful of cherry tomatoes and fresh basil for a winning combination.
3. Sprinkle into a salad

There's never a boring salad in sight when you have some roasted peppers on hand! Our favourite combination includes feta and capers for a truly Mediterranean taste fusion.
4. Stir through pasta

For a quick and yummy pasta creation, all you need is a jar of tasty roasted pepper strips! Whether the sauce is cream, tomato or oil based, they work a treat every time.
5. Place them on a platter

Next time you create a gorgeous platter, don't forget your stuffed peppers! They're the crowd-pleaser that always seem to be the first to go.
6. Bake into a hearty breakfast

We love baked eggs for breakfast, especially if it means we can enjoy tasty peppers in the morning!
7. Boost your burger

Top off your burger with roasted peppers! They're sure to give your burger a Mediterranean feel.
What's your favourite way to use roasted peppers? Join the discussion on Facebook to let us know.