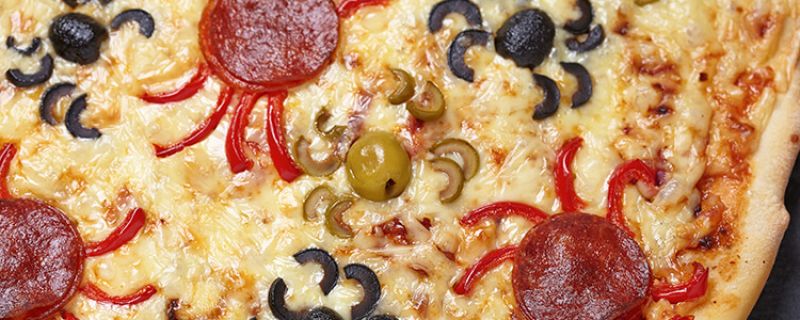 We absolutely love Halloween but not just because of the candy. It's also a fabulous opportunity to get creative in your kitchen. Whether you're tricking the kids into eating their veggies or wowing your friends with your creepy culinary skills, we've got plenty of ideas to bring the spooky spirit of All Hallows' Eve onto your plate.
1. Creepy crawly olives

Super scary and super easy to create, these olive creepy crawlies will crawl right off the plate and into your mouth! The trick to getting them just right is using cut up toothpicks to stick the ingredients together.
2. Scary salad pepper cups

Spook your family into eating all of their salad with some carved pepper salad cups. We love to get creative so every pepper face has its own personality with freaky lettuce hair.
3. Mysterious Frankfurt mummies

Get these mummies out of their tombs for Halloween by combining franks and puff pastry cut into long strips and wrapped snuggly around. Add in the eyes (and some extra flavour) with two dots of mustard. Now that's spooky and delicious!
4. Slimy spaghetti spiders

When it comes to creepy food creations spaghetti and frankfurts are your best friends. All you need to create these slimy spiders is spaghetti, sausages and a little ketchup.
5. Spooky spaghetti webs

Catch your guests in a cheesy web of spaghetti. Weave your web using cheese cut into thin strips. Black spaghetti ups the haunting factor and also tastes delicious with the tomato sauce.
6. Googly eyeball meatballs

This is an easy twist on a classic! All you need is little bit of sour cream and a few pomegranate seeds to stare down your Halloween captives as they devour their dinner!
7. Big ugly monster burgers

Burgers are the perfect Halloween meal, especially when they look like they may eat you instead of the other way around! Create these monsters by cutting jagged edges into your cheese, using your sauce strategically and adding some eerie cucumber eyes.
8. Spider-infested pizza

Give your pizza a hint of the horrifying by creating spiders out of olives, salami and pepper strips. This crowd pleaser will have all of your Halloween guests clambering for a frightful slice!
9. Rice pumpkin lanterns

For a healthy Halloween meal, these rice pumpkin lanterns are perfect. Use tomato-based rice with olives and fresh herbs to decorate.
10. Angry monster sandwiches

Sandwich your Halloween party into a scary situation with these super simple monster sandwiches. Use a colourful filling like salami, salmon or tomato and cut your bread into a jagged mouth in the middle. Finish it off with some freaky olive eyes.
11. Frightened Bananas

Eating your fruit has never been as terrifying as it is with these frightened bananas! They're super simple to create. All you need is your bananas and some melted chocolate to decorate.
12. Grotesque witch pretzel fingers

Make some magic by using pretzel sticks, almonds and green frosting to create some gruesome witch fingers. They'll put a spell on your stomach, but don't worry – it's only because they are so yummy with all of their sweet and salty goodness!
13. Ghastly ghost potatoes

Haunt your family and guests this Halloween with these creamy mash ghosts. Simply use a piping set to share your ghosts and add some peas for eyes. Boo(m)!
14. Mummified mini pizzas

These pizzas may be mini but when you turn them into mummies with strips of cheese and olive eyes they pack a big scare! Whether you're preparing for the kids or the young at heart, no one can say no to these supernatural snacks.
15. Ominous octopus pies

Bring your pie to life for a Halloween special with some olive eyes and a little extra puff pastry for climbing tentacles. Make sure they're eaten before they eat you!
Are you a big Halloween fan? We'd love to hear about how you celebrate in your house! Join the discussion on Facebook.