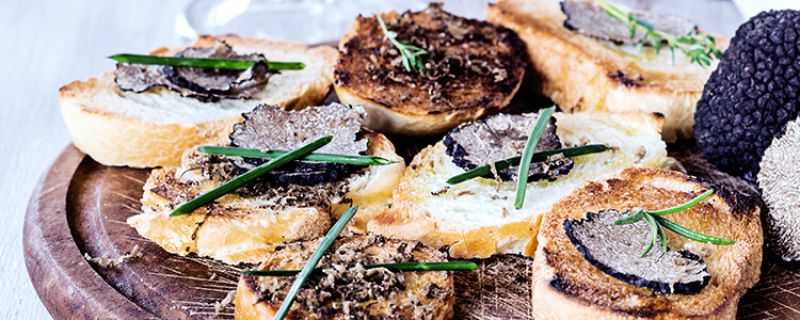 Truffles may not be the most attractive looking ingredient but their distinct and powerful flavour gives them their status as one of the most expensive foods in the world. A trip to the Mediterranean is just not complete without sampling some truffle flavours that are a big part of the local cuisine. So when you're looking to live large and savour a meal to remember, without the cost of flights to France, Spain or Italy, here's 5 of our favourite truffle dishes to look out for!
1. Truffle Risotto

A well cooked risotto is a delightful experience but one with truffles is on a level of its own! The tender rice is the perfect compliment to the nutty truffle flavour. This is a dish you won't forget in a hurry!
2. Truffle Pasta


It's a big call, but this may just be our favourite way to enjoy truffles! The pasta perfectly amplifies that delicious truffle flavour. What's also fantastic is that there are so many options for other ingredients to include. A creamy pancetta truffle sauce is always a great option with a little parmesan on top but we also love the less common creations featuring prawns or shrimp! Don't worry, you'll still be able to settle for truffle-less pasta after you indulge – but only just!
3. Truffle Omelette

We can't think of a better way to start the day than with a truffle laden omelette. From our point of view, it doesn't matter where the day goes from there, because you've begun it in style! The best truffle omelettes are very simple and let the truffles do the talking, so to speak! If you'd like to create a more affordable version at home, try making a mushroom omelette with truffle oil for a scrumptious result.
4. Truffle Bruschetta

Who doesn't love bruschetta, right? We think a truffle twist on this Italian classic is something to be tried at least once in your life. If you're new to the truffle game this is a great place to start as the crunchy bread will allow you to get maximum flavour out of the thinly sliced truffle. We'll understand if you start experiencing truffle dreams from this point onwards!
5. Truffle Steak

A fancy steak can get a lot fancier when you add truffles to the plate. In our eyes this dish is the ultimate indulgence. The woody flavour of the truffles is perfectly balanced to a fine cut of aged beef and the result is a culinary treasure that is well worth the dent in your wallet!
Been lucky enough to enjoy a truffle dish recently? We'd love to hear about it on Facebook.