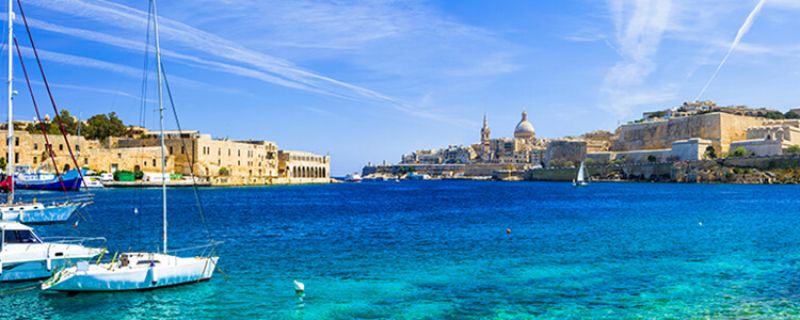 Malta may be lesser known and a lot smaller than some of the other famous Mediterranean destinations but it should by no means be left of your travel bucket list. With rich history and bold natural beauty, Malta has lot to offer and that's not even mentioning the delicious local cuisine! The colourful boats in the stunning harbours, crystal blue waters and ancient structures will have you captivated and never wanting to leave. Here's 5 of the many reasons to add Malta to your must-visit list.
1. Dip in the Blue Lagoon

There is definitely a reason that crowds flock to the blue lagoon on Malta's smallest and all but uninhabited Island Comino every day. This natural beauty will open your eyes to a new spectrum of crystal blues. For the ultimate luxury, we recommend travelling by yacht, to avoid the hustle and bustle and dive in in style.
2. Munch on endless pastizzi

You had us at pastry. This traditional savoury snack perfectly combines flaky filo-style pastry with fillings like ricotta cheese or mushy peas. The result is something delectable and very moorish! Sold in cafes, bars and by street vendors, they are blessedly always on hand when that hunger hits again.
3. Savour a glass of Syrah

Malta may not be as well known as Italy or Spain when it come to wine production but their locally produced Syrah packs unique and big flavours that pair perfectly with the local Mediterranean cuisine. At the end of a day full of sight-seeing, there is nothing better than a glass of this spicy red to carry you into the depths of relaxation.
4. Be swept away by the beauty of Valetta

It's easy to spend the whole day wandering around the historical capital city of Malta. With a baroque character there is architecture to marvel at in every direction you look. The city was recognised as a World Heritage site by UNESCO in the 80s and it's not difficult to ascertain why. Surrounded by beautiful harbours, there are stunning views to witness surrounding the city before you head into one of the world class restaurants for some local cuisine. We'd consider a day spent in Valetta a day well spent!
5. Adventure to the caves

Malta has some pretty exceptional caves to behold, all of which will leave you full of wonder. The Blue Grotto is probably the most famous, owing to the water's multitude of blue shades. Another well-known cave, Ghar Dalam, was home to some very fascinating fossils dating back an impressive 500,000 years! Now you just have to make sure your itinerary allows enough time to visit them all!
Have you been lucky enough to visit this beautiful country? We'd love to hear what you loved best, join the conversation on Facebook.