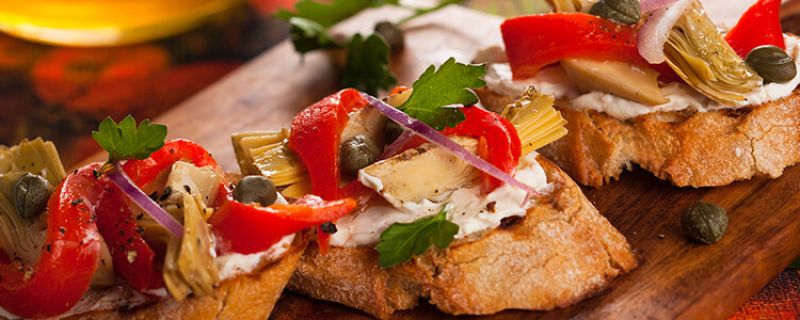 A classic Mediterranean ingredient, artichokes are the heart and soul of some of our favourite meals. As far as we're concerned, they make every dish better so we've compiled a list of 11 ways you can up your love of this scrumptious vegetable.
1. Dip in

In our book, the classic artichoke dip is always a good idea. Pair with a crunchy french baguette for pure artichoke enjoyment.
2. Give them a place on your next pizza

It's a bit of a no-brainer but artichoke on pizza is a match made in heaven! With a creamy white base, some healthy greens and a generous serve of cheese, it'll be your go-to pizza recipe in no time.
3. Oven roast them

Add some Mediterranean style to your next Sunday roast with marinated artichoke hearts. Yum!
4. Toss them into your salad

You simply can't have a Mediterranean-style salad without artichoke hearts! With a little chorizo, feta and fresh herbs to top it off, this is a salad you can make friends with!
5. Stir through pasta

For a simple but heavenly and delicious pasta, try adding some marinated artichoke hearts to your next pasta creation.
6. Create a tart to remember

Who could say no to a slice of tart, especially when it's bursting with the yummy flavour of artichoke hearts? We heart tart!
7. Create an antipasto feast

Super simple and super effective, artichoke hearts are a great way to give your next antipasto platter an authentic Mediterranean feel.
8. Try them fried

For a delicious Mediterranean finger-food idea, try battering artichoke hearts and lightly frying them. You can thank us later!
9. Brush up on your bruschetta

We love mixing it up with our bruschetta to create new twists on this Italian classic. One of our absolute favourites is to add artichoke hearts, capers and pepper strips for an antipasto bruschetta delight!
10. Sandwich them into your panini

Nothing like a delicious panini stuffed with artichoke hearts, relish and mozzarella for lunch! That's when you know it's going to be a great day.
11. Whisk them into your quiche

We love a slice of quiche anytime of day, especially when it's got artichoke hearts in it. Nom, nom, nom.
Do you have a great recipe idea for artichoke hearts? We'd love to hear about it on our Facebook page.