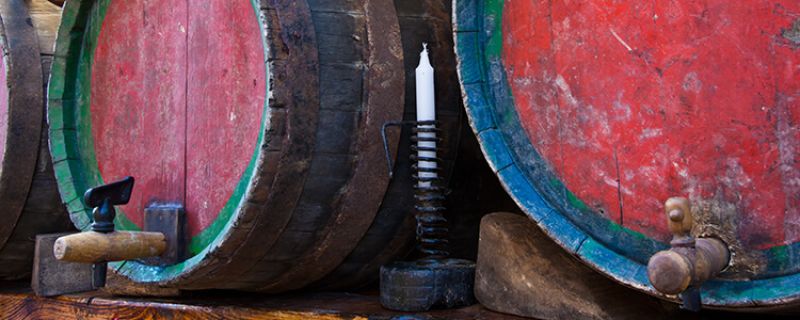 Love a drop of vino? We're right there with you! Italy produces some of the finest wines in the world from some of the most beautiful scenery imaginable but with so many choices (and glasses) it can be hard to keep your grapes straight so we've put together a little crash-course on our favourite Italian wine varieties with some ideas on how to best enjoy them. Saluti!
Sangiovese

The most planted grape throughout Italy, chances are you have heard of this delicious vino. Because of the sheer number of grapes planted all over different Italian regions the taste of Sangiovese can vary immensely but the most famed varieties are born out of the idyllic Tuscan region. Generally, the tannins and acidity of Sangiovese range from moderate to high containing a wide range of scents and flavours from cherries to figs to strawberry, clove and thyme. We think this is a great variety to enjoy with your classic Sunday roast for a memorable end to the weekend shared with those you love.
Prosecco

Hailing from Veneto (one of our absolute favourite Italian regions), Prosecco is a refreshing Italian sparkling wine that is sure to liven up any occasion. The wine is aged in large tanks producing a unique flavour profile that often features vanilla, honeydew, pear and apple. This spritzy delight is the perfect way to get the party started, expertly paired with a platter of cured meats and fresh-fruits.
Pinot Grigio

Famed for it's zesty citrusy flavour Pinot Grigio comes from the Trentino, Alto Adige and Veneto regions in Italy. The grapes are a greyish-blue colour that is much darker than other white wine grapes. Possessing a medium to high acidity this delightful dry white should be served ice cold to really maximise the lime, peach, green apple and pear flavour notes. One of the best ways to enjoy it is with a green salad and a well-seasoned piece of fish.
Verdicchio

From the central Italian Marche region this versatile and light, crisp white is characterised by a mineral flavour and a traditional unique curved bottle. The high acidity level gives this wine hints of citrus and almond. Crack open a bottle and enjoy it with some freshly made pesto tossed through pasta. You won't regret it!
Lambrusco

Light and fizzy, Lambrusco makes for the ultimate glass of delicious chilled sparkling red! We have the Northern Italian Emilia-Romagna region to thank for this easy-drinking delight. Made from the very light Lambrusco grape the result is a hint of berries and a lovely touch of bitterness. The sweet flavour is the perfect accompaniment to a crispy homemade pizza but we're not sure if you'll be able to stop at just one glass or one slice!
Barbera

Usually with a little bit of a lower price point, Barbera wine is often considered the wine of the people. Predominantly from the valleys of Northern Italy this light to medium bodied dry red variety often possesses an intense berry flavour that is improved with age. Rich foods pair seamlessly with this drop so we'd recommend a pasta featuring strong flavours like truffle or blue cheese. Let the people have wine!
Are you an Italian wine connoisseur? We'd love to hear your thoughts and favourites. Join in the conversation on Facebook.