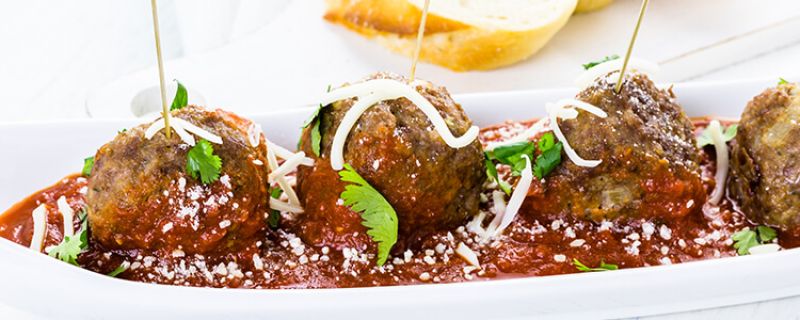 First impressions are key, especially when it comes to your next party or event. Avoid your guests whispering "when will dinner be ready" by dazzling them from the get-go with some delicious hors d'ouvres. We've got some ideas that are easy to whip-up leaving you more time to enjoy the fun and a glass of sparkling with your guests.
1. Stuffed Mushrooms

They may look super fancy and taste equally incredible, but stuffed mushrooms are surprisingly easy to make! It's as simple as removing the stalk, combining a few flavoursome ingredients, such as goats cheese, bread crumbs, chives and garlic and baking them in the oven until they're just right! Be sure to make plenty though – no one will be satisfied with just one!
2. Mini Bruschetta

This Italian favourite never goes astray when entertaining. The key to making your bruschetta truly memorable is using great quality ingredients. We like to keep it nice and simple with tomato, basil, onion and olive oil but it's also fun to branch out and give your guests something to talk about for dinner parties to come!
3. Proscuitto-wrapped Grissini

Creating a delicious appetiser can be as simple as wrapping a piece of prosciutto around your favourite grissini variety. The salty cured ham and crunchy grissini complement each other perfectly. Just don't expect the conversation to be flowing as everyone noms on this tasty treat!
9. Antipasto Skewers

Got a couple of jars of Always Fresh olives and antipasto in your fridge or closet? Perfect, turn it into a yummy antipasto skewer sure to delight the lucky guests at your event! Thread the ingredients onto a skewer alternating between the different ingredients and creating different options to account for different taste-buds. Looks great and oh-so-simple!
5. Crustini Bites

If you're preparing for your party and a little low on time to head to the supermarket, this one is for you! Crustini bites are the perfect way to utilise what's in your fridge and closet. This is a great time to express your culinary flair and creativity combining cheeses, relishes, tapenade, herbs, antipasto and charcuterie. The possibilities are endless as will be the compliments you receive from very happy attendees.
6. Melon di Parma

Juicy melon and bold parma ham – what's not to love about this classic Italian dish? Be sure you select a ripe cantaloupe and high-quality parma ham or prosciutto to get the best results. The only problem we foresee is after you taste test, you may not want to share!
7. Fried Olives

Take your olive game up to the next level by frying them and giving your guests something to talk about! It's surprisingly easy to make. All you need is your favourite jar of Always Fresh olives, flour, eggs and some breadcrumbs. If you love olives as much as we do this is sure to become your party go-to!
8. Spicy Prawns

Heat things up and and add a bit of Spanish flair to your get-together with some simple yet tasty spicy prawns. The combination of fresh prawns, oil, fresh herbs and chilli may be simple (and super quick to throw together in a hurry) but it's sure to heat things up!
9. Meatballs

Ah the classic meatball. When done right it can be an absolute show stopper! We love experimenting with different ingredients and sauces to keep our guests guessing. Right now we're particularly fond of adding feta and oregano to the mix. Try it, you'll see what we're on about!
If you've got some great hors d'ouvres ideas we'd be thrilled to hear them. Join in the discussion on our Facebook.