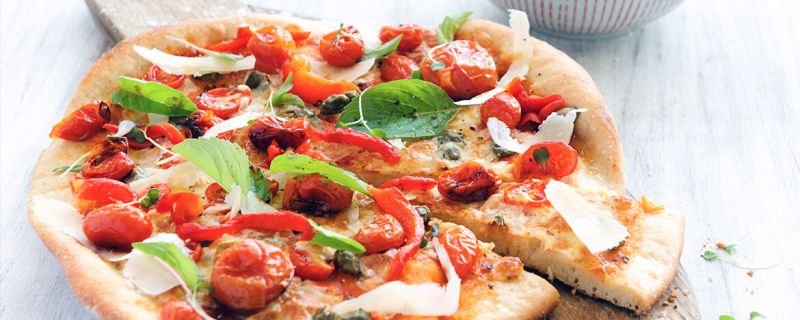 Pizza – we just can't imagine life without it! The crisp base, the gooey cheese and the delicious toppings create a match truly made in heaven. The best part is, you can easily create pizza magic for yourself at home. Here are our favourite toppings of all time to get you started on creating the perfect pizza!
1: Fior di latte Mozzarella

It goes without saying that when it comes to pizza not much is as important as the cheese! For an authentic Italian taste nothing compares to fior di latte, an Italian buffalo mozzarella cheese. It melts perfectly to coat your toppings in cheesy deliciousness and create a pizza worth dreaming about!
2: OLIVES

Salty and scrumptious, olives are right at home on a yummy pizza! Different olives work well with different combinations. For instance, green olives work well on a vegetarian number, Kalamata olive wedges work well with salami and as the Greeks could attest, black olives complement feta cheese seamlessly.
3: The Ultimate Tomato Sauce

If you've been lucky enough to travel to Italy, you'll know that the tomato sauce is crucial to creating the perfect pizza. With the perfect tomato sauce as a base even the most simple pizza, like a Margherita, can become a flavour sensation that'll transport you to the streets of Naples. Don't be afraid to create your own sauce from scratch – you'll quickly learn it's worth the effort!
4: CHORIZO

It's likely we can all agree that chorizo makes just about anything better and that is definitely true when it comes to pizza! We love the way it goes crispy in the oven and adds a burst of flavour to your pizza creation.
5: Artichoke

We like to think of artichoke as the underdog when it comes to creating the ultimate pizza! In our mind no vegetarian pizza is complete without it!
6: Anchovies

We know it can be a somewhat contentious topic but we're going to come out and say it – we're totally in support of anchovies on our pizza! Their salty flavour is always a welcome addition in our opinion and gives your pizza that straight-out-of-Sicily authenticity.
7: Fire Roasted Pepper STRIPS

We love the tanginess that fire roasted peppers add to a pizza! They create a flavour explosion sure to make your pizza a memorable one!
8: Prosciutto

Creating a drool-worthy pizza with prosciutto is oh-so-simple! Tomato sauce, a couple of sliced mushrooms, some fresh herbs, a generous amount of fior di latte, cover with prosciutto and bellissimo – a pizza every Italian would approve of!
9: Sundried Tomatoes

Bursting with flavour, sundried tomatoes have the ability to liven up any pizza and turn it into something special!
What are your favourite pizza toppings? Head to our Facebook to join the discussion!