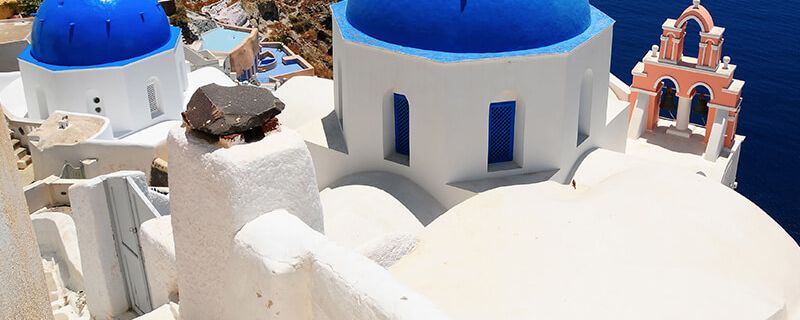 A trip to Greece is a treat for the senses, and none more so than your taste buds. There are culinary masterpieces to be sampled in every region so to help you choose, we've narrowed it down to the 15 dishes that you simply must enjoy on your next trip to one of the world's most historic countries.
1: Moussaka

The quintessential Greek dish, Moussaka is a masterful combination of ground meat, eggplant and tomato. It'll warm your stomach and your soul. The dish changes slightly from region to region but it's delicious no matter what subtly different ingredients get thrown in.
2: Calamari

As much as Greece is famous for it's white, sandy beaches and turquoise waters, it's also well-known for high-quality fresh seafood. If you're a fan of calamari you just haven't lived until you've tried it in Greece!
3: Dolmades

Dolmades are a classic Greek creation that you definitely can't miss! These soft vine leaves stuffed with a tasty combination of tender rice and traditional spices will become your new favourite snack!
4: Cheese pie
Prepare yourselves, cheese lovers – Greek Cheese Pie is a total game changer. With flaky pastry and salty feta, it'll have you falling even more in love with Greece!
5: Baklava

If you've got a sweet tooth it'll definitely be satisfied by the many varieties of Baklava on offer around Greece. You'd have to be nuts not to try it!
6: Tzatziki

Whether it's as an accompaniment or the main event, Tzatziki is not to be missed in Greece!
7: Spanakopita

Filo pastry + feta + spinach = perfection. This Greek classic is a must-try but we definitely cannot guarantee that you'll be able to stop at one!
8: Souvlaki 

There are probably not too many people out there who haven't tried Souvlaki at lease once in their lives. Souvlaki in Greece is a whole different story, though!
9: Melomakarono

Not only is Spaghetti Puttanesca a timeless Italian classic, it's also a very simple midweek dinner that tastes great! We love the combination of olives, tomato, capers and garlic – yum!
10: Keftedes

Greek cuisine has mastered meatballs with Kefthedes! Usually served as an appetiser, they're the perfect way to warm up your taste buds ahead of a main meal.
11: Gyro

Juicy and tender meat bursting out of a warm pita is the thing our culinary dreams are made of! Enjoying an authentic gyro in Greece is an experience sure to be remembered for a lifetime.
12: Saganaki

What's not to love about fried cheese? Excuse us while we proceed to drift away into a reverie of Saganaki.
13: Greek Salad

Greek Salad may sound somewhat simple but enjoy one in a Grecian cafe and you'll understand why it is an absolute must!
14: Loukoumades

These sweet, gooey balls of yum are, in our view, a Greek delicacy and should not be missed! Make sure you save room for dessert so you can devour a whole plate. After all, that's what the good life is all about!
15: Loukaniko

Loukaniko may look like your ordinary, run-of-the-mill sausage but the flavour it packs inside makes it worth the trip to Greece. Traditionally the pork meat is flavoured with orange peel and fennel seeds, creating a bold flavour that'll have your taste buds in a spin.
If you've tried these famous Greek dishes before we'd love to hear about it on our Facebook page!